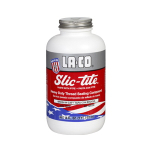 LACO SLICTITE 240ml BRUSH IN CAN THREAD COMPOUND C/W PTFE
Slic-tite paste with PTFE is a premium thread sealant, some of the benefits include:
Non-toxic, non-drying, washes off easily.
Sealing temperature: -50°F to 500°F (-46°C to 260°C).
Pressures: 3,000 PSI (204 BAR) for gas, 10,000 PSI (680 BAR) for liquid.
For sealing water, air, steam, natural gas, LP gas, refrigerants, ammonia, gasoline and oil. See Application chart for other service uses.
Stock Code
SLIC240
Price

£14.46

(exc VAT) Each