Delivery Service & Carriage Charges
Local Delivery Service
Local Deliveries made by our vans will be free for all orders valued over £25 excluding VAT to addresses within our local delivery area.
A small order charge will be made of £5 for orders delivered on our transport for orders under £25 excluding VAT in value.
Our local delivery area covers parts of Suffolk and Norfolk, bounded approximately by Winterton in the NE - to Norwich in the NW - south along the line of the A140 to Diss then east to Aldeburgh, Our eastern boundary is the North Sea. This is indicated on the map below with the bounderies being within the blue lines.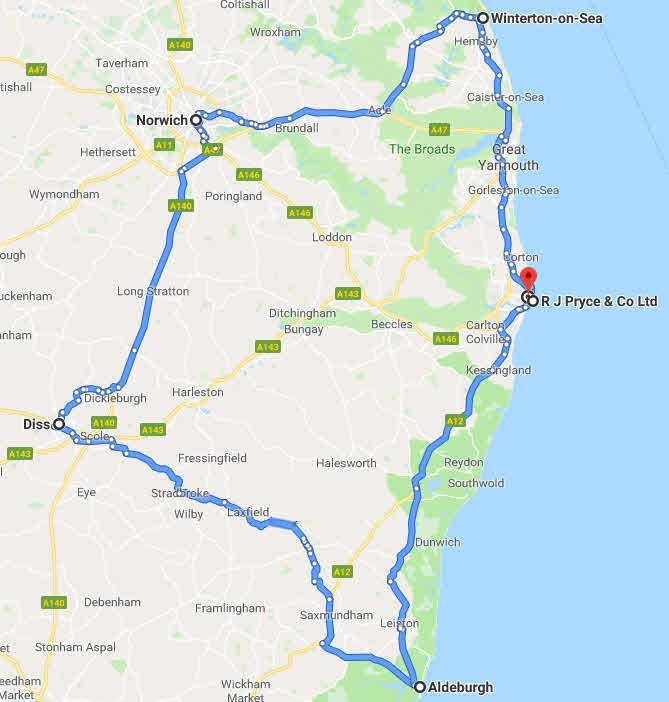 Mainland England, Wales & Southern Scotland
Our standard carriage charge is £7.50 & only covers Mainland England, Wales & Southern Scotland for goods up to 4m in length. Additional charges may apply for some bulky or awkward items.
For orders placed from other parts of the British Isles we will contact you regarding carriage extras before despatch
Please call to enquire about reduced postage charges for small, low-value items
EU & The Rest Of The World
Please enquire for other parts of the world, we currently have customers in France, New Zealand & Gibraltar.
Please note: Some consignments due to extreme size or weight may require alternative delivery arrangements at extra cost in which case we will contact you before despatch.